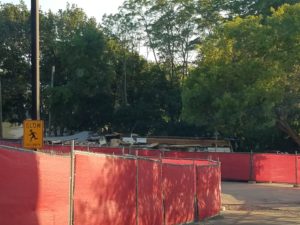 While you cannot visibly see the abatement work currently occurring in the basement of the Richardson, you may have noticed the demolition of the annex through the red-cladded construction fence. After Mayor Rabbitt granted the library use of this building (originally a portable classroom) in 1986, it functioned as a space for educational and cultural programs. In the late '80s, it became the Children's Room while the Richardson's basement was renovated and repaired for that very purpose.
For the last few decades the first floor of this building stored equipment, tools, and supplies for the maintenance of the library's building and grounds. In the past few years, it became a favorite hangout spot for squirrels, even with the smell of gasoline and oil permeating its interior.
The demolition makes way for one of the City's new parking lots. This new lot, which will have approximately 100 spaces, will supplement the parking on Abbott Street and by Library Field.