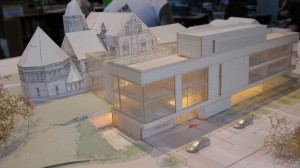 K nowing we have needed an expansion since 1908, we are closer than ever to building an addition that will allow us to enhance our services and provide space for members of our community to gather for educational and recreational purposes.
Thanks to the donations of community members like you, we have raised an additional $4 million to put toward both the renovation and expansion of our library. If you are interested in donating to our building fund or help make our expansion a reality in another way, please visit the Woburn Public Library Foundation.
We have been awarded a provisional building grant of nearly $10 million by the Massachusetts Board of Library Commissioners. This grant is dependent on monetary support from the City.  To read more about the grant announcement, you can read the August 2014 press release here.
JUNE 2015 UPDATE
In 2014, the City of Woburn was awarded a provisional grant of $9.9M by the Massachusetts Board of Library Commissioners (MBLC) for plans that were drawn up by the Boston-based architectural firm CBT and submitted to the MBLC in 2011. The Library Building Committee (Mayor Scott Galvin, Chair, Trustee Richard Mahoney, Trustee Judith Kelley, Auditor Gerald Surette, and Engineer Jay Corey) began meeting over six months ago to review, update, and modify those original plans.
After several revisions, these modified plans were sent to the MBLC for their review in April.   In addition to their own highly qualified personnel, the MBLC retained an independent architect to review the plans.  Based on their joint findings, the MBLC concluded that the final modified plan did not meet their requirements for serving the needs of the Woburn community for the next twenty years.
In late May, the MBLC communicated their concerns to the Building Committee and advised that they could withdraw and apply for the next grant round or modify these plans to comply with the requirements to satisfy the concerns of the amended plan.
The Building Committee chose to modify their plan to address the concerns of the MBLC. At this time, our architect CBT and our project manager DTI are working with the MBLC to achieve this goal. While CBT has much experience in renovating and adding on to historic structures, CBT faces unique challenges in designing and connecting a space for 21st century learning and collaboration to our designated National Historic Landmark.
While CBT is working diligently on drawings, the City has sought and has been granted an extension of time from the MBLC to revise the plans and present them to the MBLC for approval.  Once the MBLC has approved the plans, then the Building Committee will present cost estimates and renderings to the City Council for their approval by September 2015.