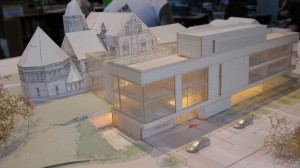 K nowing we have needed an expansion since 1908, we are closer than ever to building an addition that will allow us to enhance our services and provide space for members of our community to gather for educational and recreational purposes.
Thanks to the donations of community members like you, we have raised an additional $4 million to put toward both the renovation and expansion of our library. If you are interested in donating to our building fund or help make our expansion a reality in another way, please visit the Woburn Public Library Foundation.
We have been awarded a provisional building grant of nearly $10 million by the Massachusetts Board of Library Commissioners. This grant is dependent on monetary support from the City.  To read more about the grant announcement, you can read the August 2014 press release here.
Plans for the new addition and renovation have been completed and are on display in the Library's Reference area. You can also view photos on the Library's flickr page. The architectural firm CBT Architects has done a wonderful job of designing an addition that creates space for library materials and programs while coordinating with, and respecting, the original building.