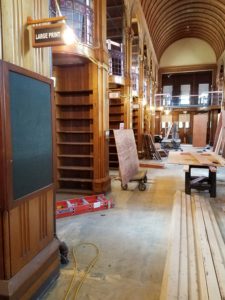 With each day that passes, our work crews in our beloved Richardson further our mission to return our magnificent library's main floor to a state that closely matches the building when it first opened on May 1, 1879. In the picture above, you see the prep-work to protect the original woodwork from damage when the green vinyl flooring with black banding is removed. The carpet, which has covered the floors for decades, has already been removed.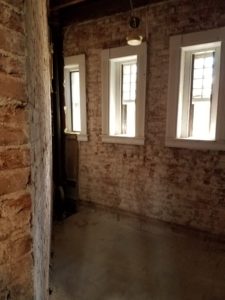 The single bathroom you may remember for patrons' use has been brought down to its brick layer to prepare for the installation of drywall, which will transform these spaces into storage for the Octagon's soon-to-be conference room.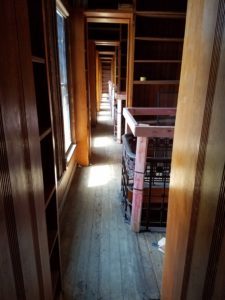 Through careful asbestos abatement, the original floors on the upper levels are emerging from beneath layers of tile and plywood. Above, you can see those hardwood floors as well as the wooden framing put at code level to protect the workers from falling to the main floor. One also gets a sense of the narrow openings throughout the balcony level, which prevent it from being ADA compliant.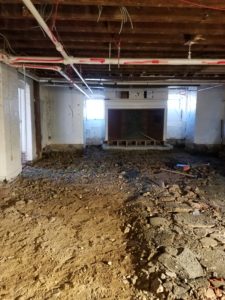 The floors on the basement level, which housed both the children's room and the staff workrooms, have been lowered to create more headroom. The old steam pipes and gaslight piping that ran underneath the floors in the workrooms have been removed, and the rat slabs (their function being just what you think it is) are being taken up to prepare for a the pouring of a solid, level floor. Originally, these spaces were never meant to have people occupying them.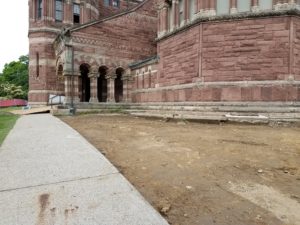 In the next three weeks, scaffolding will be erected around the exterior of the Richardson building in preparation for masonry restoration and cleaning. Once the work on the masonry on the rear of the building is complete, the digging for the foundation of the addition will begin.
Stay tuned for more building project adventures!