The wooden floors on which the first visitors to the Woburn Public Library tread on May 1, 1879 have been uncovered. While we know the wood species in each room, it was hard to imagine what they would look like finished. Until this past Tuesday. Small sections of flooring in the former Circulation and Reference rooms and the Frizzell Study Hall have been sanded and coated to give us a glimpse into the final effect.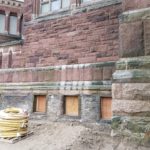 Meanwhile, on the exterior of the building, investigation into effective masonry cleaning solutions and methods continues. There are many different conditions around the building from coal deposits and rust to efflorescence and biological growth. Each of the bands in the photo represents a different treatment, as our team is trying to find the best solution to tackle each of these conditions.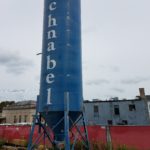 Next to the Octagon, you may have spotted the Schnabel concrete mixer raised on the site on Tuesday. As the foundation walls for the addition take shape, they are also shoring up the Richardson's foundation through a method called jet grouting, which means concrete pilings will be inserted diagonally under the stone foundation for stability and support.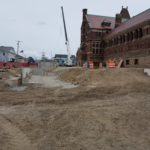 From the west side of the building, the far corner of the addition is becoming a reality. This will be the storytime and craft room for the children's room. In fifteen short months, it will be filled with the sound of stories read with all the voices, the sight of glitter and glue, and the energy of children of all ages engaged in learning, creating, and imagining, building the foundation of their futures.