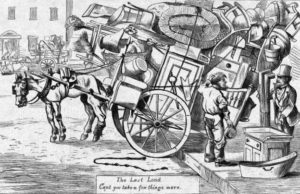 Dear Community Members:
On February 21st, we begin phase I of our move, which involves moving most of our Archives and Museum objects to a climate-controlled storage space under the watchful eye of trained preservationists. From this collection, we will bring to 36 Cummings Park our microfilm reader, microfilm reels, genealogical materials, Woburn Collection, and Wells G & H / Industri-Plex Superfund materials for researchers to access during the 18-month construction period.
If you plan on visiting us from February 21st through March 7th, please note that we will be open on weeknights from 4pm to 9pm, on Friday from 4pm to 5:30pm, and on Saturday from 9am to 5:30pm. During the weekdays, our movers will be crating our artwork and packing pieces from our museum, which requires using much of the main floor. Our staff will be busy during the day tagging each item in our circulating collections with their designated destination via a system of color-coded circular dots in preparation for phase II (March 27-April 17) of our move, which will require full closure of the library. So, when you visit, don't be alarmed if you see green, yellow, and pink adorning the spine of each item. We are using reports from our circulation system to hone in on the most popular items, which will be coming to 36 Cummings Park.
Our library will be open during our regularly-scheduled hours from March 8th through 26th. During this time, the movers will be setting up shelving generously donated by the Reading Public Library in our temporary space at 36 Cummings Park and our storage spaces, all of which have been generously donated by Cummings Properties. We are so grateful for the goodwill of our neighbors.
There are two exciting events related to our move to put in your calendar:
Yard Sale on March 31, April 1, and April 2
Rock the Richardson on April 8
Please stay tuned for more details about both.
Thank you for your patience during our time of transition. If you have any questions, please do not hesitate to email me at abunker@minlib.net or call the library at 781-933-0148 (our number will remain the same at 36 Cummings Park).
Kind regards,
Andrea Bunker
Director