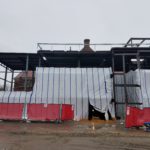 In the past month, with the addition's steel fully erected, crews have been preparing to pour concrete decks on the ground floor, first floor, and mezzanine. During this time, they have been enclosing the addition with tarps designed to retain heat and to protect the structure from the elements.
While both winter storms and the frigid temperatures impacted the timing of the pours, the crew began on the first floor last Friday, January 19.
Meanwhile, inside, framing of the former children's room, which will become staff office space, has begun.
Likewise, framing and drywalling have begun in the former workrooms, which will become mechanical and office space.
Now that the scaffolding has come off of the south-facing side of the Richardson, one can see the stages of repair to masonry in poor condition.
When driving down Pleasant Street on a sunny morning, make sure to notice the glistening leaded windows set high in the Octagon, as the yellowed plexiglass has been removed on 1/3 of them. There will be a UV filtering film placed on the inside of each window to protect the paintings and historic artifacts that will be on display in that room. That film will not impact the brilliance of these uncovered panes.