From the desk of Tom Doyle, Archivist
To begin this new series of occasional blog posts delving into the history of individual rare books from the Library's Special Collections, I'm offering the full story of a book that connects Woburn with a President's Library.
The ownership of a book often tells a story that goes well beyond its original subject matter. Such is the case with President Grover Cleveland's copy of Samuel Sewall's 1868 volume, The History of Woburn, held in the Glennon Archives' Special Collections. The Reverend Samuel Sewall, the pastor of the Congregational Church in Burlington for twenty-eight years, also served as pastor for a time in North Woburn, Carlisle and other locations. He was a dedicated local historian who combed the Woburn town records and over the years compiled his comprehensive history that was only published after his death.
The book, bound in full leather, was given with the compliments of Leonard Thompson Jr. in December of 1884. Thompson, a Woburn Public Library Trustee who was an avid local historian and genealogist, may have wanted to send the President-elect a remembrance of his Woburn heritage.
Cleveland, the Governor of New York, ran as the Democratic nominee for president in 1884, and on November 4 won the election. The ancestry of the Cleveland family in America, which began with Moses Cleveland settling in Woburn in 1648, was well established by 1884. Cleveland served his first term from 1885-1889, later serving a second term from 1893-1897.
This copy of Sewall's History includes a cabinet card photograph of the 1879 Richardson Library, taken by Woburn photographer Howard E. Strout, pasted into the front pages, along with an 1889 printed birds' eye view of Woburn. If the image of the library was taken in 1884 or earlier, that would make it the oldest known photograph of the front of the Library, predating Baldwin Coolidge's better known 1889 view by at least five years. The size of the trees in the foreground of the image, and the lack of an electrical line (the library was electrified in 1889), in place in Coolidge's view, would seem to confirm this date.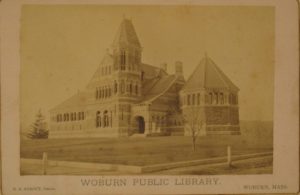 Cleveland eventually gave the book to Princeton University, where he was a Trustee for a time, and Princeton later sold the book as a duplicate. At some point it was donated to the Library, presumably by the purchaser, where it became copy no. 11 of Sewall's History.