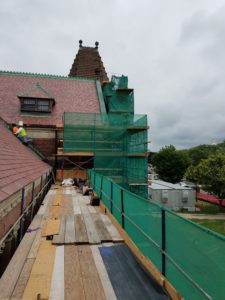 From scaffolding framing the entire south side of the Richardson to rebar and concrete put in place on the north side to mold the addition's foundation, there have been many visible changes over the past month. We have received many inquiries about the progression of the project during this time, and we thank you for your understanding as we took time off from posting updates out of respect for Mark Camire's family.  We continue to keep Mr. Camire and his family, friends, and colleagues in our thoughts every day.
The scaffolding you see spanning the front of the building is in place for slate roof repair, masonry repair and cleaning, and abatement work on the windows. The slate on the roof dates back to 1914, when the original Spanish tile roof failed and had to be replaced. Each damaged piece from that era is being removed and replaced, and new snow guards will be added along the roof's perimeter. Where the masonry is in poor condition, repairs will be done, in some cases utilizing stone taken out of the north side for the walkways into the addition. Abatement of the caulking around the windows continues.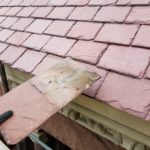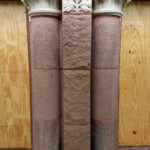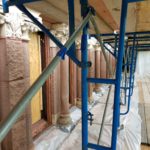 Meanwhile, in the rear of the Richardson, crews have been digging soil to make way for molds filled with rebar where concrete has been and will be poured. Once the concrete is poured, the molds will have vibrations sent throughout them to ensure full adhesion to the rebar, which reinforces the concrete.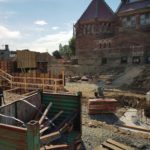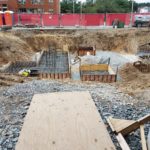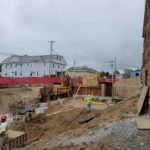 On the interior, work has been completed to remove the layers of floor covering the original hardwoods. When the carpeting came off of the staircases leading to the balcony, ornate ironwork on the risers was discovered. Our consultants have been discussing the best methods for restoring these elements, along with the built-in wooden bookcases and pilasters, to their original beauty for all to enjoy.