The library is open Mon-Thurs from 9-9 & Fri and Sat from 9-5:30. We are closed for cleaning from 1-2 on Mon, Wed, Fri, & Sat, & from 4:30 - 5:30 on Tues & Thurs. Please note the library's Thanksgiving Holiday Hours: closing early at 5:30 on 11/25, Closed for Thanksgiving holiday on 11/26 and 11/27.
Check out what's new on library shelves! See something you like? Use your library card and PIN to reserve your copy today!

---
After you have completed and submitted this customized book list form, we will get back to you within two weeks with a list of between 5 and 10 suggested books. Information you share on this form will be kept in strict confidence.

---
The Woburn Public Library subscribes to BookPage, a monthly newsletter with reviews, author interviews and more. Pick up a copy of the publication at the Reference Desk or click on the title above to visit the BookPage website.

---
Combining over 140,000 titles, 50,000 authors, and thousands of read-alike, award winner and librarian's favorites lists, Books & Authors helps bring readers and literature together.

---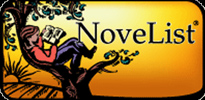 NoveList is an electronic readers' advisory resource which assists fiction readers in finding new authors and titles.