THE LIBRARY WILL BE CLOSED ON FRIDAY, DECEMBER 8 FOR STAFF DEVELOPMENT DAY FROM 9am to 1pm. THE LIBRARY WILL REOPEN AT 1pm.
Check out what's new on library shelves! See something you like? Use your library card and PIN to reserve your copy today!

---
Our staff is happy to find you personalized reading recommendations based on your interests! Simply fill out our form here and we will get back to you in a week with a short list of suggested books.

---
The Woburn Public Library subscribes to BookPage, a monthly newsletter with reviews, author interviews and more. Pick up a copy of the publication at the Reference Desk or click on the title above to visit the BookPage website.

---
Combining over 140,000 titles, 50,000 authors, and thousands of read-alike, award winner and librarian's favorites lists, Books & Authors helps bring readers and literature together.

---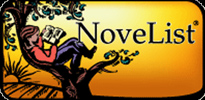 NoveList is an electronic readers' advisory resource which assists fiction readers in finding new authors and titles.