THE ELEVATOR AT THE LIBRARY IS OUT OF SERVICE WHILE WE AWAIT PARTS. EASIEST ACCESS TO CHILDREN'S ROOM IS THROUGH THE LOWER ENTRANCE AND FOR THE MAIN LEVEL, PLEASE USE THE MAIN ENTRANCE. BOTH ENTRANCES ARE WHEEL-CHAIR ACCESSIBLE. WE APOLOGIZE FOR ANY INCONVENIENCE.
Check out what's new on library shelves! See something you like? Use your library card and PIN to reserve your copy today!

---
After you have completed and submitted this customized book list form, we will get back to you within two weeks with a list of between 5 and 10 suggested books. Information you share on this form will be kept in strict confidence.

---
The Woburn Public Library subscribes to BookPage, a monthly newsletter with reviews, author interviews and more. Pick up a copy of the publication at the Reference Desk or click on the title above to visit the BookPage website.

---
Combining over 140,000 titles, 50,000 authors, and thousands of read-alike, award winner and librarian's favorites lists, Books & Authors helps bring readers and literature together.

---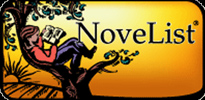 NoveList is an electronic readers' advisory resource which assists fiction readers in finding new authors and titles.