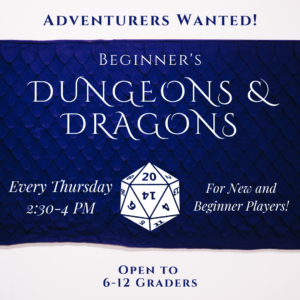 The library offers many opportunities for beginner and experienced Adventurers!
Beginner's Dungeons & Dragons Summer Sessions
Whether you have only played a few times or have never rolled a 20-sided dice before, embark on a week of Dungeons & Dragons with fellow beginners. We will learn the basic rules of the super popular roleplaying game and work through an adventure even a first-timer can master.
This campaign meets every Thursday, 2:30-4pm starting July 7 – August 18.
Register here:
New Player Workshop
New to Dungeons & Dragons? Need to create a character? Want to improve your character? Just need a refresh of the rules?
Stop by the Makerspace between 2-2:30pm to prepare for the D&D campaign. (No registration required)
Advanced Dungeons & Dragons
Looking for a campaign that's a bit more challenging? This summer, we now have a D&D campaign for adults and advanced teen players. This will be a 3 hour campaign.
Dates TBA