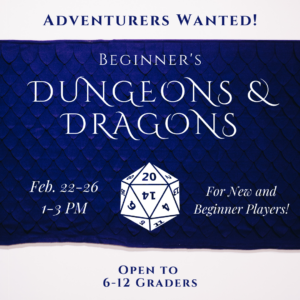 The Teen Room offers many opportunities for beginner and experienced Adventurers!
*All D&D clubs and events are open to incoming 6-12th graders unless stated otherwise*
Beginner's Dungeons & Dragons
Whether you have only played a few times or have never rolled a 20-sided dice before, embark on a week of Dungeons & Dragons with fellow beginners. We will learn the basic rules of the super popular roleplaying game and work through an adventure even a first-timer can master. Dice and premade character sheets provided if needed, though you are welcome to bring your own.
This is a week long campaign over Woburn Public School's February break: Feb 22-26. We will meet daily at 1-3pm.
3D Printed Mini-Figure Workshop
Do you play a table top role playing game? In this workshop, we'll be using a program to create mini-figurines of characters frequently used in games like Dungeons and Dragons. Once we're done creating, we'll start 3D printing our mini-figures!
Mini-Figure Workshops are scheduled for Feb 22 @ 3:30 and Feb 26 @ 3:30. Please register at the links.
Character Building Workshops
Creating characters in D&D can be complicated, that's why we have workshops to go over the mechanics of character creation. New players can learn all about the world of D&D and ask plenty of questions, while seasoned players can try creating something new, connect with fellow players, and offer advice to those just starting. This is highly recommended for those who'd like to join the weekly sessions, but don't want to use a pre-made character.
There are no Character Workshops currently scheduled.