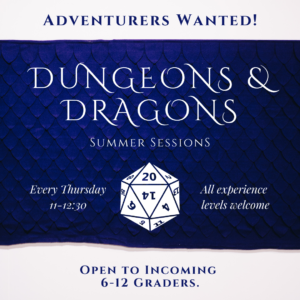 The Teen Room offers many opportunities for beginner and experienced Adventurers!
*All D&D clubs and events are open to incoming 6-12th graders unless stated otherwise*
Dungeons & Dragons – Summer Sessions
The D&D Summer Sessions is a weekly campaign for all levels. Every Thursday at 11:30 am gather to play with friends and other adventurers. New to D&D? Don't worry, so is Teen Librarian Erin! Learn the basics together in a beginner's group.
Drop-ins welcome; pre-made character sheets and dice are available to those who do not have their own.
Please register through the WPL Calendar.
Character Building Workshops
Creating characters in D&D can be complicated, that's why we have workshops to go over the mechanics of character creation. New players can learn all about the world of D&D and ask plenty of questions, while seasoned players can try creating something new, connect with fellow players, and offer advice to those just starting. This is highly recommended for those who'd like to join the weekly sessions, but don't want to use a pre-made character.
The next Character Building Workshop is July 19 at 1:30pm. Register Here.