T he Glennon Archives is the repository for Woburn Public Library's historical collections. Dr. Thomas J. Glennon (1903-1994) was a local historian and Library Trustee between 1947 and 1994.  The Archives Assistant is Sue Ellen Holland. The Archives has four categories of collections: published works on historical subjects on Woburn and local history, historical manuscripts, photographic images and museum objects.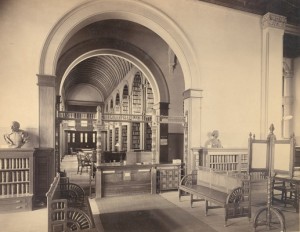 The Woburn Collection consists largely of published works relating to Woburn and its inhabitants. The Local History collection is made up of published works including genealogies, military histories and histories of Massachusetts towns and cities, counties and some other New England states. The Woburn and Local History Collections are available for use during regular Library hours by requesting a title at the Reference Desk. Most of the books in these collections are cataloged in the Minuteman Library Network online catalog. These books are available for in-library use only. You will need to fill out a request form and present a valid Minuteman Library card or photo ID to access the books.
The Manuscripts Collection includes personal papers, organizational records and other original documents pertaining to Woburn history, organized in fourteen different categories. A guide to the Collections, the Classification Guide, can be found under "Finding Aids."
The Photograph Collection consists of thousands of historical photographs, spanning more than one hundred years of Woburn history, including the Patrick J. Farino Photograph Collection. The Farino Collection Volunteer is Linda Olsson.
The Museum includes over one thousand objects from Woburn's past, shedding light on everything from the early leather industry to the Civil War to famous Woburn citizens.
Collections can be accessed by making an appointment (see our online appointment request form) with Archives staff. There is no fee for accessing a collection. There are charges for making reproductions and for the publication of materials from the Archives, not typical Library services. These charges are outlined in the Glennon Archives' "Reproduction Policy" and "Photograph Reproduction Charges" schedule. Charges help to pay for the considerable costs that result from developing, maintaining and providing services for the Glennon Archives.