***You can now visit the Archives!***
---
We are currently taking Appointment Requests for the Glennon Archives. The digital collection remains fully accessible online. If you have a research request that cannot be answered using our digital collection but you are unable to visit us in person, please fill out a Research Request form, found HERE. We will respond to requests in the order that they are submitted. 
T he Glennon Archives is the repository for Woburn Public Library's historical collections. Dr. Thomas J. Glennon (1903-1994) was a local historian and Library Trustee between 1947 and 1994. The Archives has four categories of collections: published works on historical subjects on Woburn and local history, historical manuscripts, photographic images and museum objects.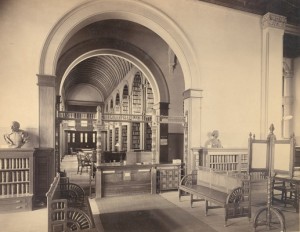 The Woburn Collection consists largely of published works relating to Woburn and its inhabitants. The Local History collection is made up of published works including genealogies and military histories.
The Manuscripts Collection includes personal papers, organizational records and other original documents pertaining to Woburn history, organized in fourteen different categories. A guide to the Collections, the Classification Guide, can be found under "Finding Aids."
The Photograph Collection consists of thousands of historical photographs, spanning more than one hundred years of Woburn history, including the Patrick J. Farino Photograph Collection. The Farino Collection Volunteer is Linda Olsson.
The Museum includes over one thousand objects from Woburn's past, shedding light on everything from the early leather industry to the Civil War to famous Woburn citizens.
Physical collections are currently open to the public. There is no fee for accessing the Digital Collection.