Baldwin Coolidge
Baldwin Coolidge was born in Woburn, Massachusetts on July 7, 1845. He was the son of Mary (Manning) and Benjamin Coolidge and the great-grandson of Loammi Baldwin, Revolutionary War patriot and engineer for the Middlesex Canal. Coolidge grew up in Lawrence and became that city's first engineer at age 33 before he changed careers and in 1878 opened up his first photography studio in Boston. Coolidge returned to Woburn to live in a Baldwin family home, from 1889-1908, while maintaining a studio in Boston.  In 1889 he took a series of photographs of the Woburn Public Library. Coolidge died in 1928.
Salvatore J. Elia
Salvatore Joseph Elia was born in Italy in 1907 and came to the United States with his parents Rosario and Catherine Palmer Restino Elia when he was a small boy. He was a well known commercial photographer in Woburn who had a studio at the rear of his home at 31 Walnut Street. He passed away on January 16, 1936 after a brief illness, at the young age of 29.
Alfred Elson
Alfred Elson was born in St. John, New Brunswick, Canada on September 17, 1868, the son of Mathilda Crowel and Alfred Elson. He began his photography business in Woburn in 1900. His studio was originally located in the Dodge building at the corner of Main Street and Montvale Avenue. A few years later he moved into the Hartwell Building (Fisher Block). His studio, on the top floor, was built by Fred Hartwell. He worked as both a portrait and landscape photographer. He was married to Myrtle B. Elson with whom he had one son, Alfred Jr., and two daughters, Florence E. and Mildred O. They lived at 142 Montvale Avenue. Elson retired from photography in January of 1938 and passed away on November 22, 1938
Patrick J. Farino
Patrick J. Farino was born on July 20, 1921 in Tewksbury, MA, one of 14 children of Gabriel and Marsina (Lutrario) Farino. He attended Woburn High School and joined the National Guard while still in high school. He was among the first troops to sail to the South Pacific, where he served for three years in the 182nd infantry, seeing action in New Caledonia, Guadalcanal, Fiji Island and Bougainville. He was issued the Purple Heart for his service in Guadalcanal.
While in the service Mr. Farino kept up an interest in photography, begun when he was a Boy Scout, and was the only soldier in his battalion who was allowed to carry a camera. He served in the Army for 26 years as a recruiter and photographer, retiring as a First Sergeant. During that time he took wedding photographs on weekends, developing them in his basement. His photography studio was first located in his home at 79 Winn. St., then he opened his first shop at 15 Montvale Ave, later moving to 10 Montvale Ave. His last store was located at 418 Main St. In addition to wedding and military photographs, Mr. Farino took many photographs of civic events, businesses and people in Woburn. His archive of more than 40,000 images was donated to the Woburn Public Library in 2003.
Mr. Farino moved to Punta Gorda Florida in 1980 where he lived with his wife Charlene Rabidou Terranova in his "round house on the river." He participated in numerous civic organizations in the area, often in a leadership position. He passed away on April 20, 2013.
Frank W. Legg
Frank W. Legg was born in 1851 in Manchester, NH, the son of Charles H. and Ellen B. Legg.  He lived in Woburn for forty years and was in business as a photographer for thirty of those years, retiring in 1919.
His studios were at several locations over the years: at 18 Montvale Ave. and also at 347 ½, 349 and 396 Main Street. He is also listed as an artist in the city directories.
Legg was a member of the Methodist Episcopal Church in Woburn and was married to Mrs. Charlotte W. Legg. They had one son, Rev. Ernest A. Legg of Stafford Springs, Conn. and a daughter, Miss Caroline E. Legg of Washington D.C. He passed away on March 21, 1925 after a long illness.
Albion J. Nowell
Albion J. Nowell was a photographer who had a studio in Woburn for a few years. His studio and art supply store, in operation between 1897 and 1901, was located at 396 Main Street.  He also had a studio in Stoneham at 281 Main Street, and at Hulls Cove, Mt. Desert, Maine. He was an active yachtsman who also lived in New Hampshire for a time before moving to Arizona to try to regain his health. He passed away in Paradise, Arizona on July 13, 1906 at the age of 40 of consumption.
Antoine Sonrel
Antoine Sonrel, illustrator, lithographer and photographer, was a native of Switzerland who emigrated from Neuchâtel to the United States in the late 1840's. Throughout his career, Sonrel had a close working association with the Swiss-born biologist and geologist Louis Agassiz, creating scientific illustrations for him as early as the 1830's. After suffering eye strain he began working as a photographer, creating many cartes de visite portraits of prominent individuals in the arts and sciences in the 1860's and 1870's including Agassiz. He also photographed natural history specimens. He had photographic studios in Boston at 46 School Street and later at 121 Washington Street.
Although he never had a Woburn studio, Sonrel lived in Woburn from 1852-1864 in Woburn's South End, where two of his children were born. His name was apparently the inspiration in later years for Sonrel Street, in the vicinity of his home. Sonrel's other residences were in Boston on Acorn Street (c. 1850), at 99 Pembroke Street (1865), and at 764 Tremont St (1872-1873).  He retired and moved to Winchester by 1874. Sonrel died in Paris on January 28, 1879
Howard E. Strout
Howard E. (Everton) Strout was born on July 4, 1846 in Durham, Maine, the son of Merrill W. Strout and Mary Gerish Strout.  By 1871 he resided in Woburn at 202 Main Street and was working as a photographer. He lived at several locations in Woburn Center and from his work is largely known as a portrait photographer.  He had studios at the intersection of Main Street and Montvale Ave, the corner of Main and Railroad Streets and at Converse Place.
Strout married Abby E. Dimmick on March 13, 1879. The 1880 census has the family living at 78 Pleasant Street, Woburn with other family members. They had one son, Chauncy Merrill, who was born on September 21, 1880. Strout is still listed as a photographer in the 1887 Woburn city directory but by 1895 the family had relocated. In 1900 they were residing in Brockton, MA where Strout continued to work as a photographer. He passed away, probably in Brockton, sometime before 1905.
Charles H. Taylor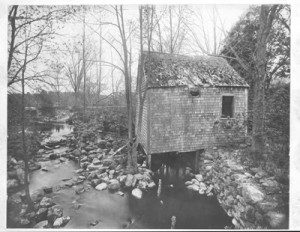 Charles H. Taylor  was born in Woburn, Massachusetts on June 4, 1845, the son of Henry and Mary D.
(Jones) Taylor and lived in the city throughout his life. His father Henry was an owner of the leather business of Shaw, Taylor and Company that burned in the Boston fire of 1872.  Henry later built a shop on Conn Street in Woburn that closed in 1877. At his father's factories Charles learned the trade of leather splitter and worked in the manufacture of glove calf skins.  He was injured while working at a different tannery and never fully recovered from the effects of the injury.
He began his work in photography around 1887, focusing on local historic sites, houses, factories and rural sites. He had a studio at 23 Pleasant Street . Taylor took photographs of railroad stations for the B & M Railroad Company and pictures of factories for other large corporations. Over 27 years he created one of the most significant bodies of work of any Woburn photographer of the time period.
Taylor married M. Hortense Littlefield on December 31, 1868 with whom he had one son, George H. Taylor. He passed away on December 13, 1914.
George E. Tripp
George E. Tripp was born in Warren, MA on November 28, 1872. He was a commercial photographer in Woburn. His shop was located at 10 Prospect Street from 1915-1919. He also worked as an undertaker. He passed away in May, 1937 in Boston, survived by his wife, Mrs. Elizabeth Fountain Tripp, his parents Mr. and Mrs. Charles E. Tripp of Woburn, one daughter, Mrs. Blanche Bingham of Medford, a sister Mrs. Angie May Richardson of Melrose and two grandchildren.
S. Webster Wyman
Samuel Webster Wyman was born on March 23, 1830 in Woburn, Massachusetts, the son of George and Susan C. Wyman. As a young man of 20 he worked as a shoemaker like his father but by the age of 30 had taken up the profession of photographer and was listed in the 1860 federal census as a daguerreotypist. He married Catherine F. Lunt of Malden on April 23, 1860. The family was living in Winchester in 1870 when Wyman was listed as a photographer in that year's census. A prolific portrait photographer, Wyman is also known as a medical photographer due to his work for Dr. Martyn Harlow, photographing the skull of Harlow's renowned former patient, Phineas Gage. By 1880 Wyman and his wife had relocated to Brooklyn Village, Cuyahoga County, Ohio. He was listed in the census that year as an artist although little is known of his career in Ohio. He passed away in Cleveland, Ohio on October 4, 1898.